Bag storage is one of the most common storage in many countries. Grains after threshing usually stored in 50-100 kg capacity jute bags. Sometimes woven plastic bags of 25-30 kg are also used.
Depending on the size of storage, stack is then formed. If the bags are stored in a multi-purpose farm shed or at farmer's house, care should be taken that rats could not damage the bags. For this, a raised platform equipped with rat guard structures may be used.
Following points should consider before using bag storage.
The stack of Jute bags should not form higher than 4m. In case of plastic bags stack height should limit up to 3 m as these bags are more slippery.
Bags should be stacked under roof, shed or under waterproof tarpaulins.
Approximate gap of 1m should left in between and around the stack. A clearance of 1.5 m should keep between top of stack and roof.  
To avoid any possibility of moisture absorption by bags, Bags should always be stacked above ground level or on wooden pallets.
Bags should be stacked in such a way that fumigation operation can perform easily.
There should be easy sweeping the floors, easy inspection for rodents and insect infestation and easy counting of the bags.
Some farmers store the bags in granaries separately constructed for storage. Such entire structure should be moisture proof.
Large size doors and ventilators should be provided to the structure.
Ventilators fitted with wire netting and shutters should be provided to the bagged storage structure.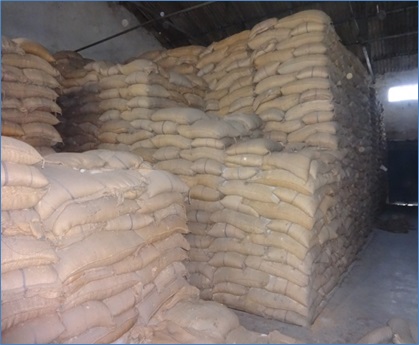 For more information please visit the ICAR e course by clicking below link. http://ecoursesonline.iasri.res.in/mod/page/view.php?id=912