A grain saved is a grain produced. These words are true looking to post harvest losses of agricultural produce due to lack of efficient supply chain management. Though improper transportation is one of the factors responsible for post-harvest wastage, lack of storage facilities also equally responsible.
After threshing, grains are supplied to local mandi and some of supply procured by procurement agencies and transports the Food Corporation of India warehouses. The storage of grains in open in form of CAP is an alternative arrangement during peak procurement seasons. According to FCI literature, there are three types of storage forms: 1) Covered godowns 2) Silos and 3) Covered And Plinth (CAP) which means Stocks (grain bags) kept on plinth and covered with polythene covers.
The word plinth is means plinth from the bottom and cover means covering the stake from the top. As stated earlier, this storage is intermediate storage and usually stores grain in bags not more than a year and at least one turnover of the stock every six months for retaining the food grain quality. CAP structure is cheaper as compared to conventional bag storage godowns. The top cover used for protecting stack of bags is made of polyethylene film of 1000 gauge. This cover should be removed at least 2-3 times in a week for proper aeration.
CAP structure may be constructed as follows.
1) A plinth, with hooks/pegs to grip the ropes lashing stack (lashing is arrangement of ropes with linking device used to fasten two items together in rigid manner) is constructed on a appropriate site. Dunnage (In construction, dunnage is scrap wood material which is used to be placed on the ground for raise construction materials) is then provided for protecting bags from dampness of ground. The covers are made of low density polyethylene (LDPE) black polyethylene sheets of 250-350 microns thick and covered from top and all four sides. These covers are held down by nets and nylon lashing. CAP storage is susceptible to damage by wind and therefore covers should be examined regularly to detect damage. For a typical 150 ton CAP storage the commonly constructed size is 8.55 m x 6.30 m for 3000 bags each of 50 kg capacity. CAP is widely used by the Food Corporation of India, The Food Corporation of India (FCI), Central Warehousing Corporation (CWC), State Ware housing Corporation (SWC), Grain Marketing Corporation (GMC) and some State Government Agencies as it is most economical storage structure.
For typical 150 ton CAP storage normally the stack is built over a space of 9.11 x 6.10 m with a height of 18 bags.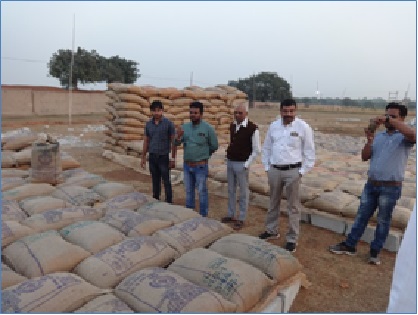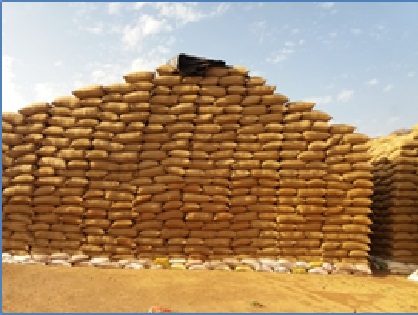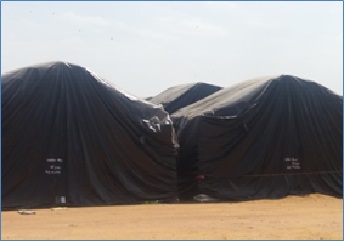 For more details click on below link of ICAR e course http://ecoursesonline.iasri.res.in/mod/page/view.php?id=914